Did you know that 90 percent of the information processed by the brain is visual? While that's a fun fact you can share at your next dinner party, it should also get your church staff brain pondering what that means for engaging people at your church. As a culture, we are highly visual, and yet most of our worship services today have very little visual aspects incorporated. This is where church media comes in.
Church media is so much more than just pretty pictures, videos, and graphics. It's a way that you can engage more people and spread the mission of your church and the message of the Gospel further than you ever thought possible. So, just how do you go about doing that?
While there are numerous ways to incorporate church media and use it as a tool at your church, we've put together an all-encompassing three-step process designed to help you use church media in powerful ways.
1. Use Church Media To Reinforce and Expand Your Church's Branding
When people in your community hear the name of your church mentioned in casual conversation, what do they think of first? This can be a good indication of your church's branding. According to the Business Dictionary, branding is "the process involved in creating a unique name and image for a product in the consumers' mind…" Think of your church as the "product" and your brand is the "unique name and image."
With that in mind, church media can be a tool that both reinforces and helps to expand your church's branding. Anytime you create a graphic, video, or photo of any kind, you have the opportunity to communicate something about your church and the ministries within it.
For example, if you create a church graphic that has bright colors and shows images of people at your church smiling and engaging with one another for your upcoming sermon series on community, that church graphic will help to show that your church is a place that lives out the message being taught.
One best practice to keep in mind is to make sure to include your church's logo on any piece of church media that you create. The logo doesn't need to be huge or central, but having it there will help to reinforce your brand.
2. Apply Church Media to Different Platforms
After you've used church media to establish your branding, the next step is to use that church media on different platforms and in different applications. Here are a few to include:
Church Website
One of the best places to apply church media is on your church website. Take the church media that you create and use it on your homepage, on your ministry-specific pages, and on your "New Here" page.
Take a look at how Light of Columbus has done a great job of incorporating church media in their web design.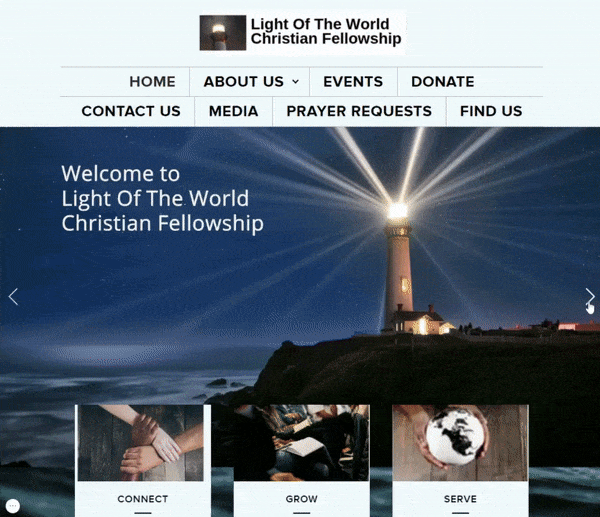 Social Media
More than 95 million photos are shared daily on Instagram. This means that social media is the perfect place to share your church media. This can help to drive engagement, further your reach, and help to make sure that people will follow your church online.
Worship Services
Church media can help to set the tone during worship, keep people engaged during the sermon, and keep people informed during the service opening and closing. The possibilities are endless when you utilize video, Powerpoint, mini-movies, animation loops, images, and other forms of church media in your services. Clover partners with Sharefaith and Twelve:Thirty Media, so our customers have access to the best of the best in church PowerPoints, bulletins, flyers, newsletters, worship graphics, animation loops and mini-movies — all available in a variety of formats.
Printed Material
Lastly, don't forget to incorporate church media in all of your printed materials. Even though this is an older form of communication, it doesn't mean that you can't keep it modern through the incorporation of graphics and images. In fact, most people only read 20 – 28 percent of the words on the page. However, that just means that you need to add church graphics alongside your copy to help to reinforce your message.
3. Engage People More Effectively by Incorporating Church Media
Lastly, when church media reinforces your church's branding and is shared across different platforms, your church will begin to engage more people effectively. Remember, the point of church media isn't to just have pretty things alongside your awesome message, it's there as a tool to make sure people actually hear the message and respond accordingly.
In a recent study, researchers found that people are likely to remember only 10 percent of the information they heard three days after they heard it. However, if an image is paired with that information, people remember 65 percent of the information three days later.
Church media can not only help people to stay tuned in, but it can also help them to remember more for longer periods of time. Hopefully, this will help you cut back on answering "when is that church event again?" type of questions!